Hello again, hello again.
Now that there was a red jacket in the previous post, it's time for some blue.
Remember how [
somewhere in the past
] I was sad about this one Moitie jacket and how it was too cute-looking and had a too big price tag attached to it? No? Well, however, then one day this autumn I saw this blue fabric sold at the local fabric store and I immediately knew what should be made of it. I left it there. I left it there three times. Not the fourth.
While keeping [
this picture
] in mind, I started to plan things out. I didn't come by any pictures where it would have been without the fur muffler (is it attached to it? Who knows), and the only bigger pic I found was from the blog of this awesome blogger [
Blue
]. But still no idea of the collar nor of the back of the jacket. Not that it matters, I didn't quite follow the example even for the parts I did see.
But I do believe that the inspiration is very visible.
Oh, and that's [
satusankari
] in the pics, I managed to talk her inside the jacket for a few minutes.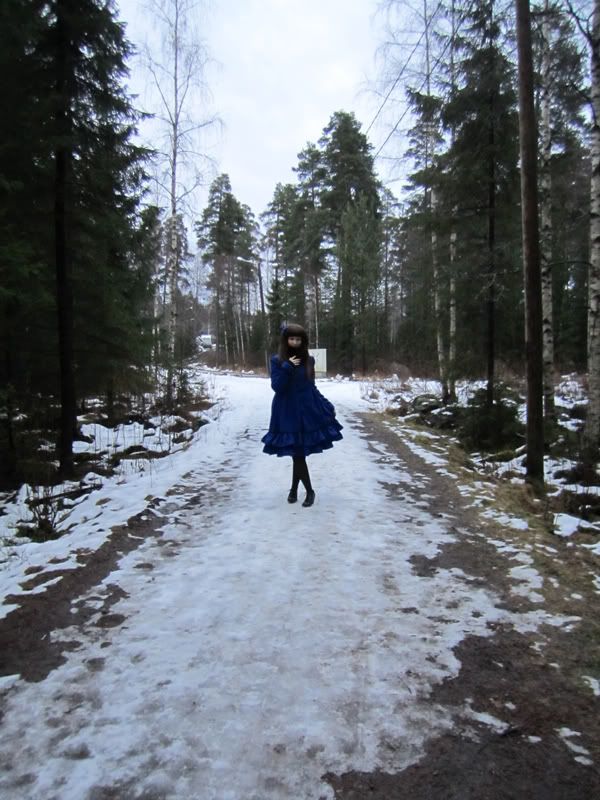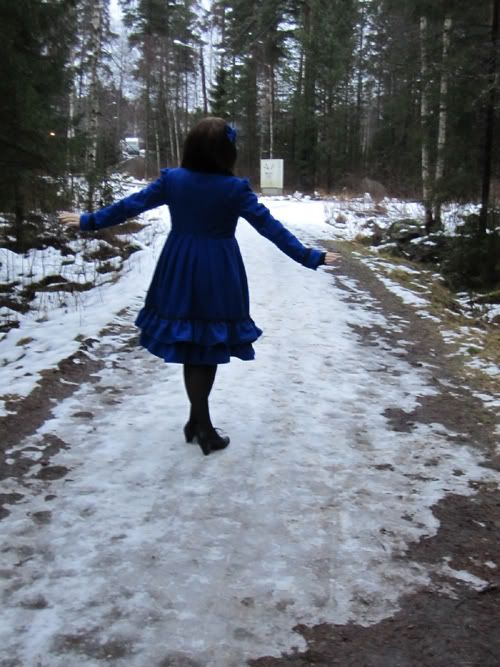 Next some indoor close-ups:

I decided on this kind of a collar... simply because I like them. Heh. It's pretty high, but the fabric stays on the position wonderfully all without any helping layers of fabrics inside.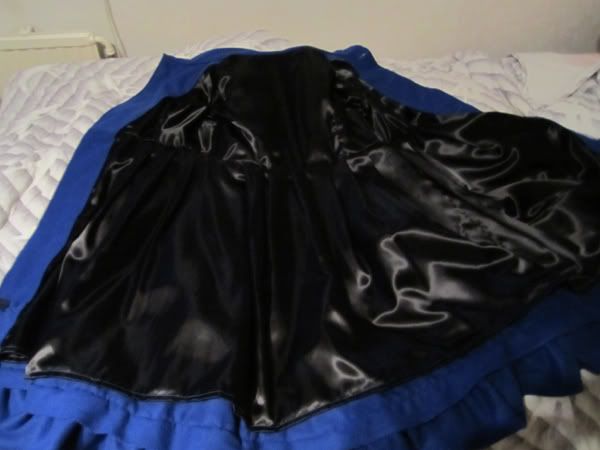 And the lining fabric manages to look very unflattering, since it reflects the light so strongly. Oh well.It also cost more than I had expected, but the lady at the fabric store ensured me that this -and this exactly- is to be used in a jackets like this. Oh well.

I haven't made a jacket with full lining before, but it wasn't that hard in the end. I did poke my other jackets to figure out how exactly it's supposed to be attached.

Needed to sew a pile of button holes again. Those buttons were huuge. And originally I was hunting for black rose buttons, but they were nowhere to be found. In the end the ones I got may even be better.

Close-up on the sleeve. Slightly poofy, yes.

I was thinking of attaching buttons to the sleeves' ends too but that must wait until the shops are open again.

All in all this ate almost 3m of the blue fabric, 1.5-2m of lining fabric, 2,50m of lace, 8 buttons (so far) and huge rolls of thread. I think I also destroyed a good amount of pins again.

Done! But... it's still of a too cute shape, what am I going to do with this now?!